I perhaps enjoy messing about with Computer hardware too much. Of course, it get's harder and harder to justify the purchase of a new computer build as it will be built, used for a bit, and then added to my collection of computers I seldom use.
I was actually pondering the possibility of adding a Radeon Graphics card to my Budget Computer Build which I discussed last year and which I Provided an update about later- I've since also added a USB3 card so I can use the front panel USB3. I realized that while I could add a Radeon Graphics card- it would be rather silly to do so, since I never use the system. In fact, I may as well give it to somebody who would use it, which led me down the path where I decided to buy all the parts for a new build for my Brother, who's birthday is in March. Because I didn't think of it until quite soon, this meant I had to compromise in order to be able to afford it, but I was able to get some assistance from the fine folks at Computer Hope Forum. To help narrow down the decision.
Purpose
The first consideration when building a computer should be, "What is it going to be used for". With the aforementioned budget build, that was basically "Whatever I'm able to" as it was an experiment in the capability of a very low-cost system. Of course in this instance, I couldn't well just ask- so I had to base it on what I observed. Light gaming and browsing seems to dominate. Of note, I should add, is that the existing system is a Compaq Presario 5450f- it uses an E-series Pentium Processor and dates from 2007 when it was lo-to-mid range at the time, as well. So it would be very difficult to build a worse system!
AMD or Intel?
The classic question when building a PC is much the same as it has been for the last decade- AMD, or Intel? The typical answer seems to depend on the era, and right now is no exception. Right now, the leaning is towards Intel. I ended up opting for an Intel processor primarily because the FX-Chip processor I specced out for an AMD build was a larger ATX motherboard and I was already set on the case- the same Fractal Design Core 1100 I used for my budget build, in fact, and that simply would not do.
Motherboard
Creating a Quality omelette requires quality eggs, and building a computer is no exception. The Motherboard is in many respects the egg that holds everything else together. As I had chosen Intel, this meant a 1150 socket motherboard. I opted for the ASUS B85M-G
Motherboard. This pairs with the selected processor quite nicely since the processor doesn't require any fancy chipset features to utilize. Furthermore, compared to some of the other options, it is nearly half the price (of a Gigabyte board I was considering) while providing many of the same features. The primary trade-offs appear to be in the realm of connectivity (fewer SATA Ports, only one 6G SATA port, more USB2 rear panel connectors over USB3, etc).Of particular note is that I learned my lesson about USB3 headers from my budget build, which lacked a header on the motherboard- I made sure this one had one.
Processor
Given that his current system is using a 2007-era value CPU, I could have just gotten a modern Pentium chip for LGA 1150 and still blown it out of the water. However, I decided to pot for an i-Series CPU, selecting an i3-4160. Since it is not a K-series CPU it doesn't benefit from some chipset features that would be on newer chipset motherboards, making it a good combination with the B85 Chipset on the ASUS motherboard.
Graphics Card
I cheaped out here, actually- I ended up removing a graphics card from the system entirely- or rather, the build won't be using a new Graphics Card. My thinking is that we can use the 9800GTX+ that is in his current system in this system. the 9800GTX+ is obviously not a modern, high-end card, but it means that a Graphics Card can be upgraded later without having to worry about the total price quite as much as right now.
Memory
For RAM, 8GB is a good starting amount. The motherboard has 4 RAM slots, and I originally specced out to have 2 4GB sticks. I ended up changing that out for a single 8GB stick, such that the system could be easily upgraded without making existing components redundant. This makes it affordable for him to get new components as well if he wanted. I got a deal on some Corsair "Vengeance" RAM whereas I usually opt for their 'XMS' line of DIMMs.
Storage
For this, I once again considered his existing situation to make a reasonable upgrade while remaining affordable. The current system has a 250GB HDD, so for this new arrangement, I chose to go with a mid-range Crucial BX SSD, with a 240GB size. This should give a very nice performance improvement without sacrificing the amount of space they are used to.
I also went with an EVGA 500W Power Supply which should provide enough power for the system as well as any future GPU that would be installed.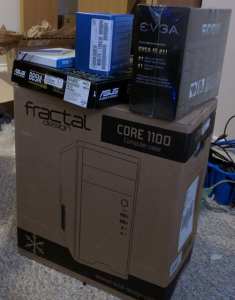 The parts arrived already, so now it is just a waiting game…
Have something to say about this post? Comment!